One of the more important issues to address in modern youth culture is how to help youth align their lives with God's design for relationships and sexuality. There are so many mixed messages. Young people are so wounded and looking for love and acceptance. Girls are willing to give themselves away to a guy to get love, and guys are willing to give some relationship if they can get sex. Young people, who are so relationship hungry are being misled in ways that you may not even be able to imagine.
YOUNG PEOPLE HAVE TOO MANY BLIND GUIDES REGARDING SEX AND RELATIONSHIPS…
Planned Parenthood is an organization that many people wonder how it can even be allowed to legally operate in our country. It is now documented that Planned Parenthood directly counsels kids who are as young as 15 years old to have as much sex as they want. They give them suggestions on how to try out perverted stuff that has nothing to do with building a relationship. In fact much of it is destructive and physically abusive. Abstinence is seen as an impossible ideal rather than a symbol of health that brings peace and joy until a person is ready to handle all of the responsibility that comes with sexuality. I don't know how they can get away with this stuff. Not only do they counsel young people to give their hearts away to someone who is not committed to them, but they also tell them that a good/morally neutral solution to an unwanted pregnancy is to have their baby killed because they don't deserve this inconvenience. The baby (who cannot defend herself) must succumb to her mother being misled and deceived by a person who does not have the mother's or the baby's best interests (present or future) in mind.
Although this is heart-wrenching reality in our modern youth culture, the good news is that there are great alternative ministries that are trying to defend both young people and the innocent babies who are in the middle of a dangerous crossfire of emotions.
By God's grace there are many crisis pregnancy centers around the U.S. They not only provide love and good counsel, but they also can point young people to Jesus who says:
 Cast all your anxiety on him because he cares for you. -1 Peter 5:7
HOW CAN CRISIS PREGNANCY CENTERS LIKE THE ALPHA CENTER PRACTICALLY HELP YOUNG PEOPLE?
In Fort Collins, Colorado where I live, we have an incredible ministry called the Alpha Center. It is having a huge impact among the youth culture of our city. They offer free Sexually Transmitted Infection (STI) screening for anyone who walks in the door. They lovingly talk their clients through a better way of thinking about relationships and sexuality. They help abortion-minded clients see that they have options, and that abortion is not the right choice, either for the innocent baby or for their own mental and emotional health. And they lovingly help clients who have had an abortion work through the post-abortion trauma so they can experience the grace of God that they so desperately need. Overall, they take any opportunity to support their clients and help them encounter the love of Jesus.
RELATED POST: God's Amazing Design for the Parent-Child Relationship | Colossians 3:20-21 (6.4)
WHAT DOES THIS HAVE TO DO WITH YOUTH MINISTRY?
Below is a recent infographic that highlights the impact of this ministry. Most of these "statistics" are students. We hope and pray that more young people in crisis will find their way to the Alpha Center so that they can encounter real love, and real holistic counsel that seeks the best for both the young parent(s) and the innocent unborn child. I believe youth ministry needs to think 360 degrees in a community in order to approach young people on their own turf. Relationships and sexuality are two areas where there is just not enough good leadership and counsel available to serve the growing number of hurting young people who are just looking for love and acceptance.
Here is the impact of Alpha Center in Fort Collins, CO this year: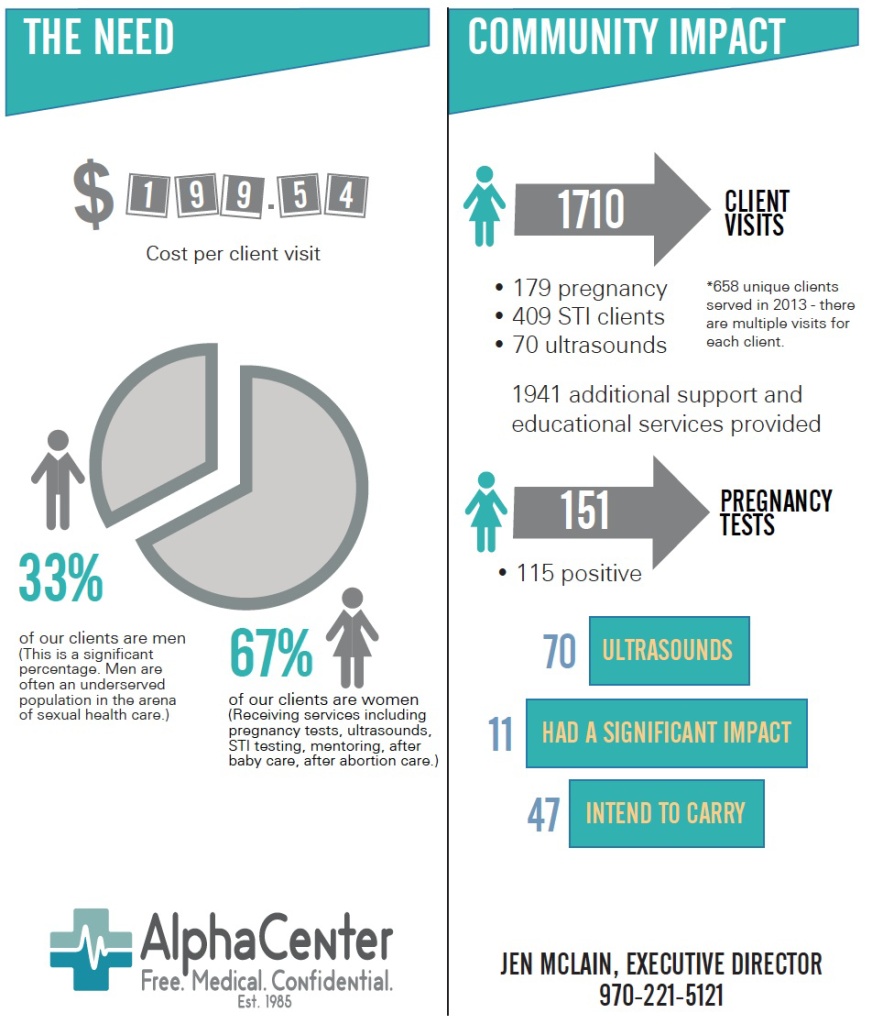 LET'S BRING HOPE TO THOSE IN CRISIS
If you have a crisis pregnancy center, maybe you can come alongside them to help them have a greater impact. And if you don't have a crisis pregnancy center in your city, you may want to call the good folks at the Alpha Center and ask them if they have any ideas how to start one.
WHO IN YOUR CITY IS DOING A GOOD JOB OF HELPING YOUNG PEOPLE ALIGN THEMSELVES WITH GOD'S DESIGN FOR RELATIONSHIPS AND SEXUALITY? WHAT ARE SOME OF THEIR BEST PRACTICES?