If you are a college student, student ministry leader, or parent of a college student I want you to read this post. College is a window of opportunity. With just a bit of intentionality your college ministry experience could be the difference between a bowl of oatmeal and a Belgian waffle with strawberries and whipping cream. Our college campuses are of course intensely secular places, but there's really nothing new about that. Followers of Jesus have always been on the outside, a little strange in comparison to the dominant culture. Yet one thing that does seem different today on college campuses is the scale of erosion in the soil of Christian community.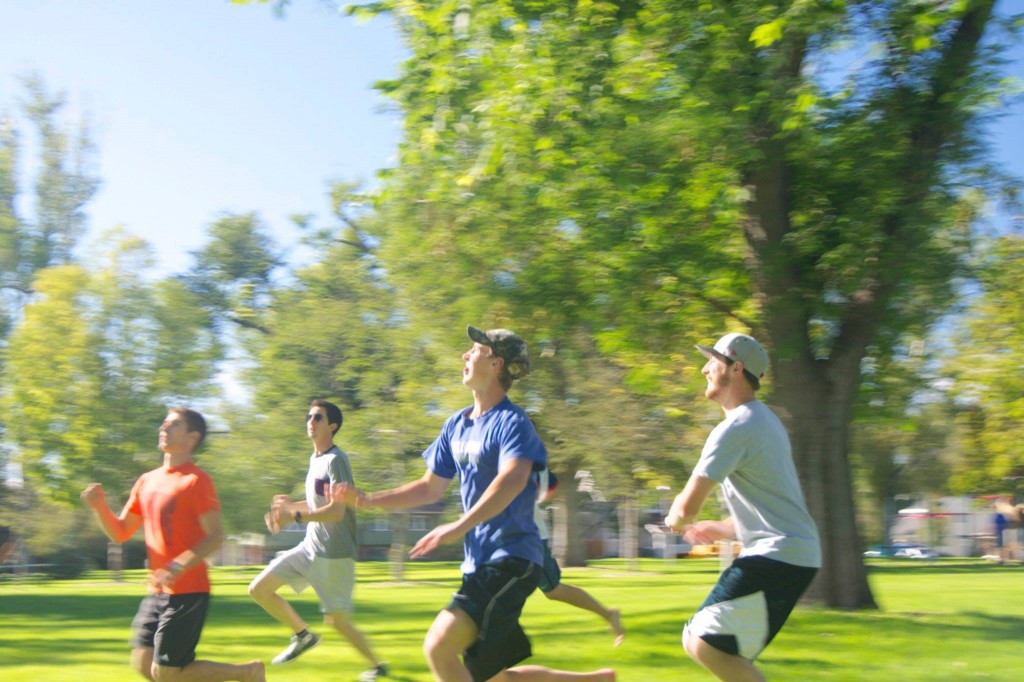 The concern is that without context, it is hard for a young believer to grow and progress in Christ. Without an adequate alternative culture of Jesus-loving friends around you, there is a good chance you will be impacted more by the dominant culture around you, rather than you impacting it. Context to live out our faith is absolutely crucial.
HOW TO SPREAD THE GOSPEL ON COLLEGE, HIGH SCHOOL, AND MIDDLE SCHOOL CAMPUSES
This is why I champion incarnational student ministry on every campus I can possibly impact. We need to pray that churches and para churches alike will have healthy bold leaders who know how to create alternative community and build a context for young believers to belong and launch out into the world. The Apostle Paul wrote an interesting sentence to young Timothy in the book of 1 Thessalonians which gives us a clue for how to practically build these alternative communities of Jesus on our campuses:
Night and day we pray most earnestly that we may see you again and supply what is lacking in your faith. – 1 Thessalonians 3:10
Timothy was the kind of young leader that our campus ministries today really need. And fortunate for him, he had Paul to encourage, equip, and empower him to lead with courage. Let's look at the four symbols Paul offers to Timothy as a strategy to bring life, color, and hope to his culture (which was possibly even more godless than most of the campuses where we are trying to establish student ministries.).
1. NIGHT & DAY
There is no half-way here. You are in or you are out. Paul wrote to Timothy because he was all in. If he hadn't been, Paul would have probably chosen someone else to invest his sweat and tears into. If you are a young leader, an obvious question you might want to consider regarding this "night and day" approach to ministry is, "Are my nights and days ordered in such a way that will help me progress in my relationship with Jesus?" Pray a simple prayer and ask Jesus to search your heart and show you some area of your life where you "lacking in your faith," and ask Jesus to supply exactly what you need.
RELATED: My Student Ministry Journey | Vision, Values, Vocation
2. PRAY
The Apostle Peter has written one of the most earth-shaking phrases on prayer that is recorded in the Bible:
The end of all things is near, therefore be clear minded and self-controlled, so that you can pray. 1 Peter 4:7
The students in your city and campus need someone like you to pray earnestly, night and day for them. Have you ever considered that it is probably more likely that God will answer your prayers for others even more than your prayer for yourself? Often when we pray for ourselves we have mixed motives or doubts and even at times selfish ambition. God does not promise to answer those prayers. He listens to them and shepherds our hearts towards his will, but he may not answer our prayers the way we would want him to because they are not according to his will. On the other hand, when we are praying for others, our motives are usually a bit more pure… we see their life and want the very best for them and so we pray for them according to God's will. Listen to what John says about this perspective on prayer:
This is the confidence we have in approaching God: that if we ask anything according to his will, he hears us. -1 John 5:14
This motivates me hugely to be praying for the people in my arena of influence. This is probably the best use of my time, both day and night. Our campuses are full of distractions, night and day, but are they full of prayer? I believe student ministry leaders with just a bit of intentionality could spark new revivals on campuses worldwide. But that won't happen without a tenacious commitment to a habit of prayer: "The end of all things is near, therefore be clear minded and self-controlled, so that you can pray." 1 Peter 4:7
3. BE PRESENT
If you are not committed to a community or team of other folks trying to reach your campus, then you will likely be sidelined from effective impact. With just a bit of intentionality, by actually being committed to people around you above and beyond what is even expected… I can guarantee you will be blessed for it. Be the initiator, be the one gathering others to do things together, be the one who presses for wholesale commitment from everyone on your team. By being present with one another, you will find that a new context is forming for your life in Christ… we grow in community, not isolation. Cultures change by small alternative sub-cultures committing to one another more than the surrounding culture… and then it begins to multiply outwards. This is how your campus is going to be reached for Jesus, through REL that love one another and are not interested in mediocrity.
4. SUPPLY WHAT IS LACKING
Humility. The road to progress begins with a humble admittance that we are each lacking, a lot. Like a wilderness expedition, you are headed towards amazing heights with Jesus, but until he returns or we die and join him in Paradise, we are always going to be on the path of progress. We always lack something. This is why we need spiritual directors and shepherds in our life like Paul was to Timothy. Paul saw Timothy's gifts and strengths, but he also saw his growth areas, and was not afraid to point them out. If you don't have anyone in your life helping you progress in areas you are lacking, then the best thing you can do right now is seek a mentor. Having someone literally sponsor you along the way will help you avoid pitfalls, and it will increase your potential much more than if you were going it alone.
RELATED: 8 Ways to Recruit and Retain More Volunteers for Your Church or Non-Profit
I asked some of our student ministry leaders at my church, Mountain View Community Church, if they could put down on one page a workflow of how we at our church take seriously these ideas of community, team, and progressing in areas we are lacking. I love what they came up with. Below is a diagram of how we invest in college Freshmen at Colorado State University as they plug into our college ministry. And the workflow shows how a person can grow through college and beyond, even to becoming a pastor, student ministry leader, or church planter. Maybe you can encourage your ministry team to take a fresh look at your semester and create a workflow or path for all of your leaders. A white-hot community of committed leaders reaching out to your college, high school, or middle school is what is going to change our cities. Pray for that, night and day.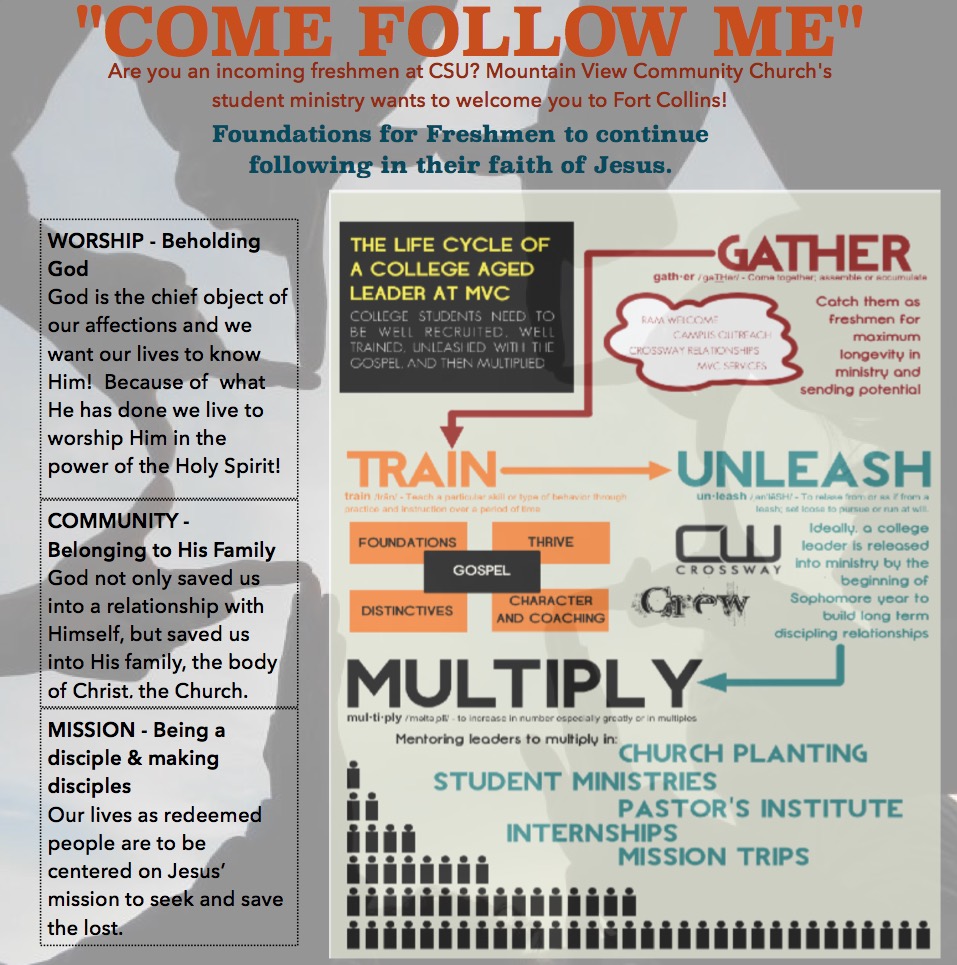 ACTION