Most of us remember what it is like in the lunchroom. After you get your lunch you scan the room for a table to sit where you will feel welcome. Adolescence can be a season of devastating insecurity, and the lunchroom can shine a spotlight on your loneliness. Kids are just waiting for someone to shine and share the Gospel with them.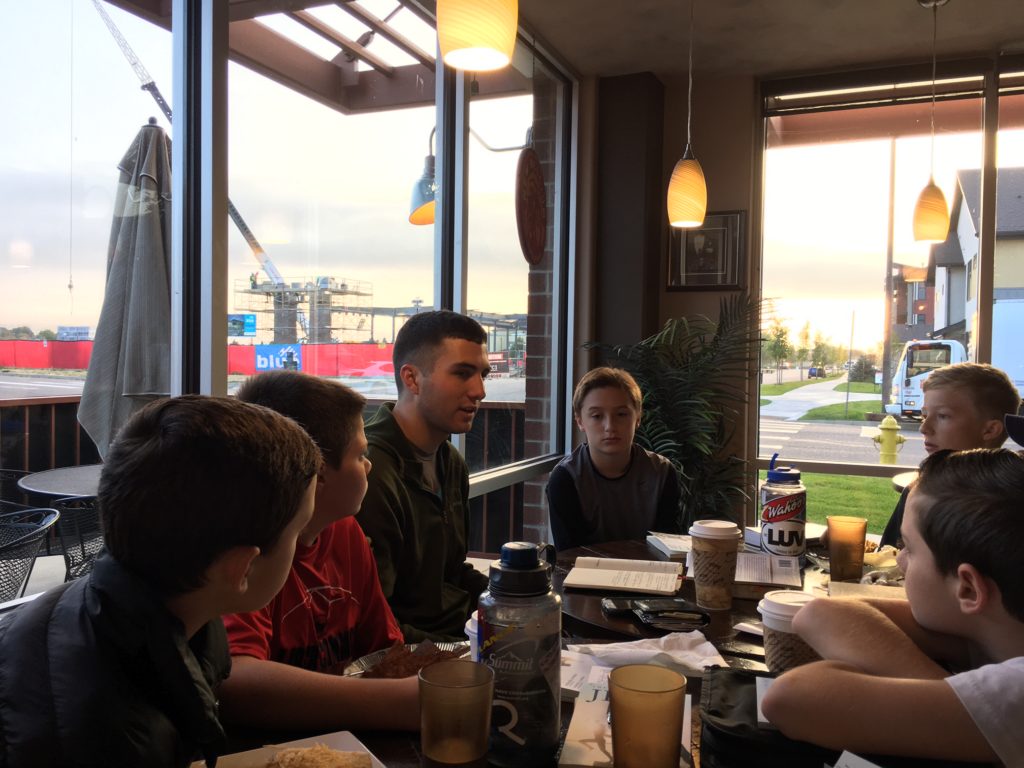 I have spent a lot of time in lunch rooms with kids. Today as much as ever we must not abandon the lunch room and other places kids hang out. We need brave young leaders who are willing to go into the world of kids to be authentic representatives of Jesus. A song by John Michael Talbot casts a compelling biblical vision for those who might go offer the Bread of Life of the Gospel to kids in middle schools, high schools, and colleges:
Come to the table He's prepared for you
The bread of forgiveness, the wine of release
Come to the table and sit down beside Him
The Savior wants you to join in the feast,,,

And here at the table, sit those who have loved you

One is a traitor and one will deny

But He's lived his life for them all

And for all be crucified  (John Michael Talbot song, "Come to the Table")
REMEMBER THE LUNCHROOM SO YOU DON'T LOSE YOUR HEART FOR ADOLESCENTS & THE GOSPEL
Imagine carting your lunch tray out of the food line and as you look over the crowd you see a popular kid smile at you. With the wave of his hand he invites you to come sit at his table. You probably feel awkward.  Like crossing the street you look side to side wondering if he is waving at you. Glancing back, you see his eyes look right at you. He nods and beckons you to come sit next to him. Sheepishly approaching his table, his friends shift a bit to make room for you. And they all give you a warm welcome. This is a picture of the Good News of Jesus. It symbolizes the ministry of reconciliation Jesus has given to his disciples to share with the world through warm hospitality.
"Come, all you who are thirsty, come to the waters; and you who have no money, come, buy and eat! Come, buy wine and milk without money and without cost." (Isaiah 55:1)
WHEN SOMEONE INVITED ME TO THE TABLE
When I was I was in high school, this scene happened to me, but it happened on a soccer field, not the lunch room…. At the beginning of my sophomore year my family moved to Colorado Springs, CO. I had grown up in a very small rural town and now I was going to have to start all over in a really big high school where I didn't know a soul. My family could not move in to our rented house for the first two weeks of August, so I had to stay with a family I didn't know and go to two-a-days soccer practice all by my lonesome. The first day of practice was memorable. I arrived at practice, met the coach, and then the coach told me to warm up with someone. As I walked out in the field, no one welcomed me to pass the ball with them.
With a lump in my throat and a blushed face I kept walking up to groups of boys, and no one even looked at me. Just when I was about to turn around in embarrassment and go get my bike to ride away from the field, never to return, I saw a tall kid look up and meet eyes with me. He smiled and walked over to me and said, "Hey, I'm James, what's your name?" I introduced myself. Then he said, "Come warm up with me and some of the varsity guys."  Those words lifted me from despair. Someone invited me "to the table." James reached out to me from that moment forward. He would pick me up in his Jeep and bring me to practice and take me to games. James treated me like a genuine pal and demonstrated the Gospel to me.
10 YEARS LATER
I moved away from Colorado Springs at the end of that school year and lost touch with James. But his actions left a deep impression on me. About 10 years later after I had met Jesus and started to follow him (that's another story), I took a bunch of high school kids to an outreach camp in Colorado. As I was getting ready to tee off for some frisbee golf, out of the corner of my eye I saw a tall guy walking up the stairs… This guy looked really familiar. It was James! He was a Young Life leader in Colorado Springs now and had brought some kids to camp. What an amazing gift it was for me to be able to to express to him my deep gratitude for the hope he gave me in high school.
ACT LIKE A FOOL & YOU'LL CHANGE SOMEONE'S LIFE
A few days before Jesus Christ willingly laid his life down for us on a Roman cross, Jesus had one Last Supper with his pals. Like an ancient lunchroom scene Jesus welcomed each of his friends to sit at his table. Like the popular boy I described who waved at the hypothetical kid in the lunchroom, Jesus also acted like a fool to make sure no one felt left out or unloved… Jesus knelt down and washed his disciples feet demonstrating the Gospel in humility. Then all awkwardness melted away as Jesus broke bread and shared this symbolic meal of deeply rooted friendship with his table buddies (See John 13).
"…Having loved his own who were in the world, he loved them to the end." (John 13:1)
YOU HAVE AN OPPORTUNITY TODAY
What young people need in our schools today is leaders who love Jesus, to play the fool and invite the lonely into genuine friendship. You have the opportunity to start a Student Ministry or serve in an existing one that will literally change a kid's life like God used James to show me Jesus. Consider this an invitation. I'm inviting YOU to play a role in turning lunchroom awkwardness into schools full of James' who will invite lost young people into warm table fellowship with Jesus. There are so many ways you can get involved in this Kingdom work.
WHAT YOU CAN DO…
Pray for the lost young people of your city to be introduced to Jesus by a loving youth leader.
Equip yourself to lead a student revival in your city.