Good relationships are vital to health. Family relationships, especially, are fundamental in equipping children to live a happy and successful life. Achieving strong family relationships take care, work, and effort. It is no surprise to anyone that the teen years bring challenges that can threaten good, positive relationships between parents and their children. There is hope, however, of combating these challenges and maintaining or developing strong, healthy relationships with your teens.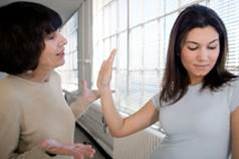 ParentFurther is an online resource that has tools to help families strengthen relationships through shared activities. They have identified 5 research-backed relationship strategies to help us learn and grow with each other.
EXPRESS CARE
We all need to know that we are cared about. Teens especially need to feel that their parents care about them. Care is shown when we listen, when we are warm to each other, when we invest in each other, when show interest, and when we are dependable. Research shows that when children and youth have warm caring relationships, they do better in school, have less risky-behavior, work harder, and have a hopeful sense of purpose.
CHALLENGE GROWTH
Challenging occurs is many forms in the parent-child relationship. Part of a parent's role is to challenge their child to grow, learn, and improve. Inspire your teen to see future possibilities for themselves. Give expectations that are clear and communicate that you want your child to live up to their potential. Stretch your child by encouraging them to push beyond their abilities Provide limitations that hold your child accountable to rules and expectations
PROVIDE SUPPORT
Support also come is many ways, but there can never be too much of it! Supporting your teen in practical and noticeable ways occurs through encouragement, guidance, modeling, and advocating. As relationships are two-way, so is support. It is good for parents to have support from other adults as a model for your teens.
SHARE POWER
"Sharing power" refers to the actions used to influence, learn from, and work with each other. How do you share power then? In our relationships it looks like sharing respect, negotiating (giving each other a voice in making decisions that affect them), responding to each other, and collaborating to accomplishing goals and solve problems.
EXPAND POSSIBILITIES
Trying new things, meeting new people, going to new places, and thinking about new ideas are all ways in which you can expand possibilities for yourself and for your teen. Help your teen explore by exposing them to new people, places, and things. Connect them to others that can help them grow. Navigate through problems that could prevent them from expanding their possibilities with them.
Visit parentfurther.com for more information about these strategies and to read about the research backing them. You will also find quizzes and discussion questions to ask your teens.
I highly recommend you visit their website and take their free inventory to see growth areas in your own parenting skills with teenagers.